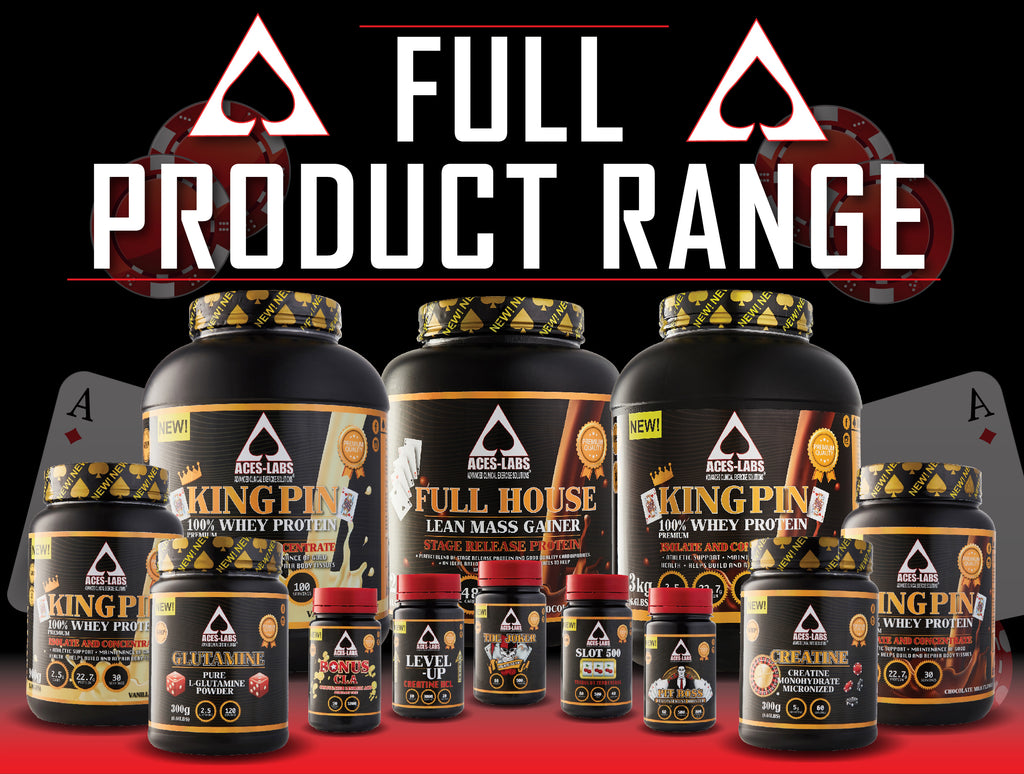 ADVANCED CLINICAL EXERCISE SOLUTIONS LABORATORIES SPORT, this is what ACES LABS SPORT stands for. From the start of our business, we as a dedicated team with over 20 years of experience in the Sport Nutrition business wanted to offer and create well researched cutting edge products that deliver results and get you onto the WINNING streak!!
All our raw materials are imported from pharmaceutical registered facilities from around the world, we ensure our raw materials go through 3rd party verification before we use them in our formulas. Our Research and Development team work with Food Scientists, Pharmacists and Sport Athletes around the globe to ensure we create and offer the BEST!
ACES LABS SPORT products are manufactured in facilities that offer the Highest Manufacturing standards in their respective countries.
Below is a brief description of each of products:
Bonus CLA assists in helping breakdown body fat and converting it into energy. Furthermore it increases your metabolism, and helps you maintain lean muscle. Perfect for helping tone your body. 
Pit Boss is an effective testosterone booster that increases natural testosterone levels. It boosts energy and strength and aids in burning body fat and increasing lean muscle mass. Pit Boss also increases sex drive and libido. 
Kingpin whey protein is a high quality blend of Whey Isolate and concentrate. It supplies a high level of naturally occurring BCAA's to the muscles. Kingpin whey protein assists in optimizing lean muscle recovery post training and is quickly absorbed into the muscle cells. Kingpin whey protein prevents muscle breakdown and ensures your body stays anabolic post workout. 
The Joker is an effective thermogenic fat burner that increases your metabolism, improves your energy levels and focus, assist with cravings and most importantly aids in weight loss.
Aces-Labs Full House lean mass gainer is developed to optimize lean muscle growth and recovery. Full House supports muscle recovery and strength. Full House is a blend of high quality stage release proteins with essential amino acids, and complex carbohydrates to gain lean muscle mass.
Slot 500 promotes a healthy and natural increase in testosterone. Increasing testosterone enhances muscle performance and recovery. Slot500 furthermore increases male performance and stamina. 
Creatine helps muscle cells produce more energy and increase muscle volume. It improves muscle endurance, stamina and strength. 
Glutamine is an amino acid that assists with muscle recovery. It is an anti-catabolic that prevent the breakdown of muscle and aids in strength and stamina.
---